Are you getting the most out of your health benefits?
Every member is on their own unique health journey— and that's where your health benefits come into play. Health insurance includes coverage and health offerings that can help you plan wellness goals aligned with your unique healthcare needs. That's why using health benefits means something different to everyone. Health plan offerings are made to meet you where you are on your journey and guide you where you want to go next. That includes mental health resources, reproductive support, managing chronic conditions, recovery coaching, smoking cessation, or nutrition guidance. Wherever you are — and whatever you may be dealing with — it's important to know you aren't alone.
At Mass General Brigham Health Plan, we offer coverage, perks, and benefits to help you meet every one of your health goals. Continue reading to learn how Mass General Brigham Health Plan empowers members along their health journey.
Enabling support along your wellness journey
Mass General Brigham Health Plan members can access Virgin Pulse, an online wellness platform that makes it easy and fun to work on your well-being goals. Features include:
A Health Profile and program recommendations
Personalized programs and content delivered daily based on your interests and level of health
Tailored health journeys and challenges designed just for you
Step-by-step programs that can help you eat better, become more active, improve sleep, quit smoking, lose weight, cope with grief, reduce alcohol or tobacco use, and more
Social connections, tracking tools, and games to keep you coming back and working on healthy habits
Visit enroll.virginpulse.com, select Mass General Brigham Health Plan and take the health assessment in English or en Español. It only takes about 20 minutes, and your information is confidential and secure. After you complete the health assessment and see the results, you'll get personalized health recommendations.
Prioritizing your mental health
A 2016 study by the National Center for Health Workforce Analysis estimated that there would be a national shortage of as many as 57,490 psychologists by 2025. Six months into the pandemic, the crisis grew worse with psychologists reporting increases in anxiety and depressive conditions of 74% and 60%, respectively, according to a study by the American Psychological Association. In October 2021, the American Academy of Pediatrics, the American Academy of Child and Adolescent Psychiatry, and the Children's Hospital Association declared a national emergency in children's mental health.
Optum behavioral health benefits are available to all Mass General Brigham Health Plan members. Through Optum, you can search for providers who offer outpatient services, day programs, residential programs, autism care and support, substance and recovery services, and more.
Lyra is available to many Mass General Brigham Health Plan members, enabling you to securely and confidentially seek clinically proven mental health services, find high-quality providers tailored to your individual needs, and book appointments quickly with a therapist or coach by video or in person. Features include:
Fast access to appointments — You can book an appointment online in as little as five minutes, with verified access to a first available session in two days or less with a therapist or coach by video or in-person, enabling efficient access to mental healthcare services when they are needed and reducing wait time.

Personalized navigation — To find a provider that meets your needs, Lyra offers an advanced digital platform that matches you with evidence-based, culturally responsive care providers, access to 24/7 support, and concierge services to navigate complex mental health issues.

Comprehensive care options — You can select comprehensive services for yourself and your children and dependents from Lyra mental healthcare providers with multilingual options and diverse sensitivities and experiences. Answer a few simple questions, and advanced machine learning helps you receive personalized recommendations, empowering you to select services and providers that match your clinical needs and preferences. You may also access self-guided online programs and securely and confidentially receive evidence-based mental health treatment.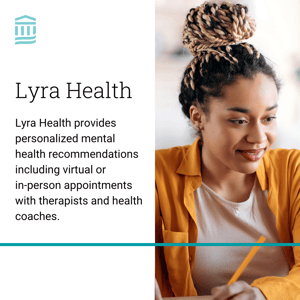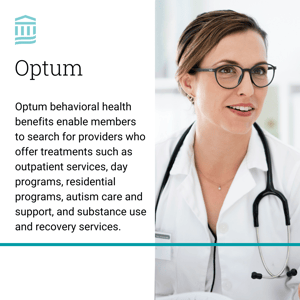 Emotional and mental healthcare along the pregnancy and postpartum journey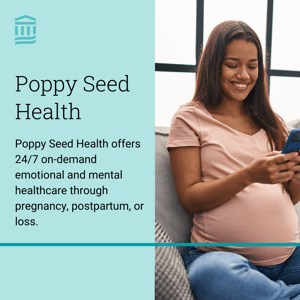 Approximately one in four pregnancies end in miscarriage, generally before 28 weeks, and 2.6 million babies are stillborn, half of whom died during the birth process. With over 400 experienced advocates nationwide, Poppy Seed Health ensures that no one has to navigate their reproductive journey alone.
Mass General Brigham Health Plan is proud to partner with Poppy Seed Health, which offers 24/7 on-demand emotional and mental healthcare that supports individuals on a reproductive health journey through pregnancy, postpartum, or loss. The advocates are equipped to provide compassionate support, ensuring no question goes unanswered and no concern is left unaddressed. Poppy Seed is a covered offering for fully insured commercial members at Mass General Brigham Health Plan.
Peer support before, during, and after menopause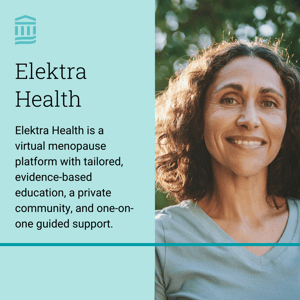 From start to finish, the menopausal transition takes an average of 10 years, with symptoms lasting anywhere from four to five years on average. Seventy-five percent of individuals dealing with menopause are going to experience the classic symptoms: hot flashes, night sweats, mood disturbance, and sleep issues.
Mass General Brigham Health Plan is proud to partner with Elektra Health as one of the only health plans in the nation to offer menopause support to eligible members. Elektra Health pairs research-backed expertise and personalized coaching with peer support to help women thrive during perimenopause, menopause, and beyond. The virtual platform enables members to access evidence-based education, a private community, and one-on-one guided support.
Expanding healthcare access for individuals with Down syndrome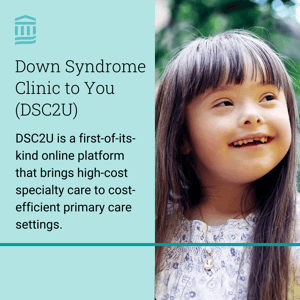 Ninety-five percent of people in the U.S. with Down syndrome do not live near a Down syndrome specialty clinic like the one at Massachusetts General Hospital. Members at Mass General Brigham Health Plan have access to Down Syndrome Clinic to You (DSC2U), an online service developed by Brian Skotko, MD, MPP, and the teams from the Down Syndrome Program and Lab of Computer Science at Mass General. DSC2U addresses this inequity to provide patients with a personalized health and wellness plan that can be shared with their primary care provider (PCP) to improve their overall healthcare journey. DSC2U provides customized information for people of all ages with Down syndrome.
Diabetes prevention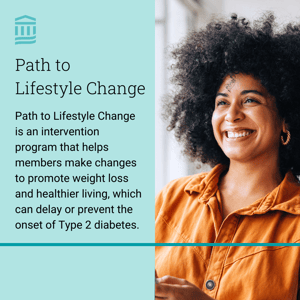 37.3 million Americans — about 1 in 10 — have diabetes. About 1 in 5 people with diabetes don't know they have it.
At Mass General Brigham Health Plan, you can join our Path to Lifestyle Change, a six-month weight loss program to help prevent or delay Type 2 diabetes, with 18 months of follow-up support. Participants will learn about nutrition, physical activity, and behavioral strategies, and receive the education, tools, and support they need to make lasting lifestyle changes. This program is offered by the Mass General Diabetes Center and is a covered benefit for Mass General Brigham Health Plan members.
Pharmacy savings
Rx Savings Solutions is a program designed to help members of many plans from Mass General Brigham Health Plan save money on their prescription medications. You'll receive proactive notifications by email, phone, text, or letter when you can save money. Then, access an online account through the Mass General Brigham Health Plan member portal to see what lower-cost prescription medications are available and compare prices based on your specific health plan.
Recovery coaches
The World Health Organization has identified drug abuse as the number-one condition that is stigmatized the most, and alcohol abuse is number four. Mass General Brigham Health Plan was one of the first health plans in the country to have peer recovery coaches on staff to address these diagnoses. Our recovery coaches understand the hurt caused by stigma and shame, thoughtfully acting as guides, mentors, and advocates for our members. Recovery coaching is available to all Mass General Brigham Health Plan members.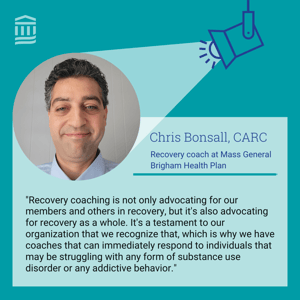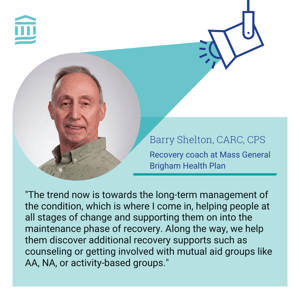 Visit our website to learn more about our member benefits.