This clinic expands healthcare access for individuals with Down syndrome
In collaboration with Mass General Brigham, members at Mass General Brigham Health Plan have access to Down Syndrome Clinic to You (DSC2U), an online service developed by Dr. Brian Skotko, MD, MPP, and the teams from the Down Syndrome Program and Lab of Computer Science at Massachusetts General Hospital. Continue reading to learn more about Dr. Skotko's mission to democratize healthcare for people with Down syndrome.
Expanding healthcare access for individuals with Down syndrome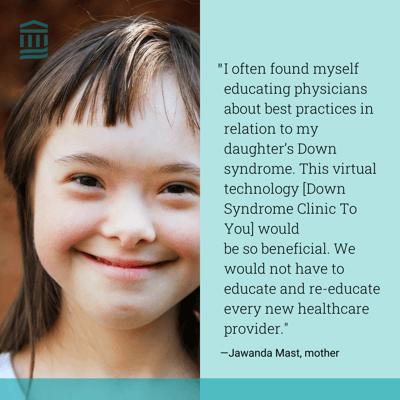 More than 95% of people in the U.S. with Down syndrome do not live near a Down syndrome specialty clinic like the one at Massachusetts General Hospital. To address this inequity, DSC2U provides patients with a personalized health and wellness plan that can be shared with their primary care provider (PCP) to improve their overall healthcare journey. DSC2U provides customized information for people of all ages with Down syndrome. The goal is to ensure patients get the right care at the right time. This plan may include:
Recommended labs, tests, and procedures

Potential new conditions/diagnoses to be considered

Health and wellness resources

Nutrition suggestions

Education/therapy resources

Other information, resources, and supports
Democratizing healthcare for people with Down syndrome
Even when working with their PCPs, less than 10% of people with Down syndrome are up to date on recommended healthcare screenings. DSC2U brings health information directly to individuals with Down syndrome and their families — no matter their geographical location or financial status. DSC2U is a first-of-its-kind online platform that brings high-cost specialty care to cost-efficient primary care settings.
Caregivers can access DSC2U online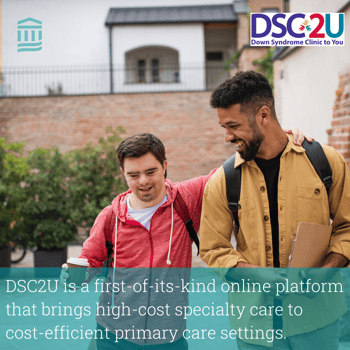 Caregivers for people with Down syndrome start by identifying current symptoms, any past medical or behavioral diagnoses, and any recent blood work or diagnostic testing. During this process, caregivers can also answer optional questions about nutrition, education, therapies, life skills, and community resources. Their responses will be analyzed in an automated process based on guidelines designed by national Down syndrome experts.
The caregiver will instantly receive two personalized documents: one for them and one to share with the individual's PCP. These documents contain customized suggestions to help the individual with Down syndrome get healthcare tailored to their needs. This allows the caregiver to ensure they're meeting all of the person's health needs.
If you're a member of Mass General Brigham Health Plan:
Visit DSC2U.org and create an account by selecting "Log In" at the top of the page.

Under payment, enter your Mass General Brigham Health Plan ID #.

Fill out the requested information and get started on the intake form.
If you have any questions, please call us at the number on the back of your ID card, email us at HealthPlanCustomerService-Members@mgb.org, or log in to Member.MassGeneralBrighamHealthPlan.org to chat live with a customer service professional. We are available Monday through Friday, 8 a.m. to 6 p.m, and 8 a.m. to 8 p.m. on Thursdays.