How families and friends can support a loved one in recovery
September is National Recovery Month, an event started in 1989 to promote awareness of substance use treatment and recovery options and to support the recovery community.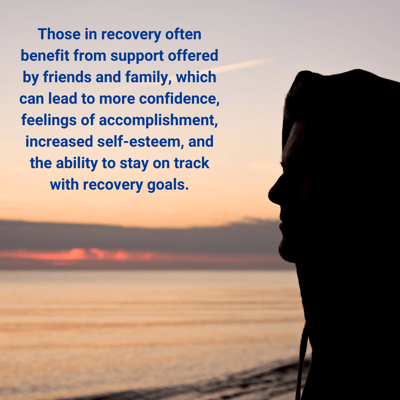 The U.S. Department of Health and Human Services—through SAMHSA, the Substance Abuse and Mental Health Services Administration—offers ample resources for individuals, families, employers, and treatment organizations that foster education, counseling, and grant funding.
While it's essential to have larger, systemic efforts in place, recovery support also includes one-on-one connections. Those in recovery often benefit from support offered by friends and family, which can lead to more confidence, feelings of accomplishment, increased self-esteem, and the ability to stay on track with recovery goals.
In honor of National Recovery Month, here are some steps you can take to support a loved one navigating through this challenging time.
Understand addiction: According to the Partnership to End Addiction (PEA), a substance use disorder is a disease that involves the continued use of one or more substances despite serious health and social consequences. Addiction interferes with parts of the brain responsible for reward, judgment, memory, motivation, and learning. Knowing the behavioral and psychological changes that can occur with substance use can help you learn about your loved one's addiction and recovery process.
Be aware of triggers: The PEA notes that people with a substance use disorder may be more at risk of returning to addiction due to triggers, including people, places, and things associated with substance use. It's not always easy to predict what these triggers might be. For example, your loved one may associate going to a certain restaurant with substance use if that's where they met up with friends who also abused substances. Or it could be seeing a certain movie where substance use is depicted. Talking to your loved one about specific triggers can help you avoid inadvertently exposing them to a problematic situation.
Let them take the lead in conversations: Although the PEA suggests active listening when talking to a child or teen about substance use, that tactic may work for people of all ages. This communication skill allows you to shift the tone of the conversation away from anger, disappointment, or judgment and toward helping your loved one feel heard and understood. Active listening involves asking open-ended questions, offering affirmations, and summarizing the key points of what's just been said to foster greater communication.
Ask how you can support them: Part of recovery is taking control of one's actions and learning to manage what's needed to move forward. Your loved one can feel empowered to ask for help if they can articulate what they need right now. Keep in mind that may be tough to hear—for example, they may say less communication would be better—but emphasizing that you're ready and able to offer support helps them know they're not alone.
Try to avoid substance use around them: Even if your loved one claims that it's no big deal if you drink or use substances when they're around, seeing others enjoy these moments could still be triggering. It may not be possible to avoid completely in all cases—a champagne toast at a wedding, for example—but being aware and respectful can go a long way toward showing support.
Seek your own support: Depending on your relationship with your loved one, their substance use may have greatly impacted your life in ways that still feel like a struggle even in the midst of their recovery. SAMHSA notes that when someone is experiencing a substance use disorder, it can affect more than just the person in recovery—that's why many families may join support groups or pursue family therapy and counseling, so everyone feels that they're being heard.
Although highlighting September as National Recovery Month can build awareness and support for recovery, these strategies are important all year round. Family and friends can play a crucial role in helping a loved one take the necessary steps to end an addiction and begin a healthier life.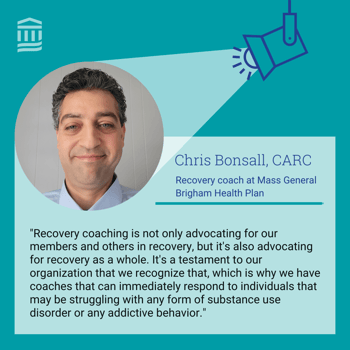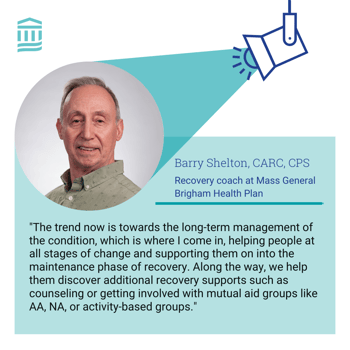 Recovery coaching is available to all Mass General Brigham Health Plan members. Our recovery coaches understand the hurt caused by stigma and shame and can thoughtfully act as guides, mentors, and advocates. Learn more about recovery coaching at Mass General Brigham Health Plan.
For more health and wellness education from Mass General Brigham Health Plan, follow us on social @MGBHealthPlan