Interested in therapy? Here's how to get started
Are you curious about starting therapy or exploring behavioral healthcare? Say no more. In recognition of Mental Health Awareness Month, we've got you covered with help from David Macadam, Licensed Therapist and Behavioral Health Program manager at AllWays Health Partners. Continue reading for tips to get therapy along with the many behavioral health resources available to our members.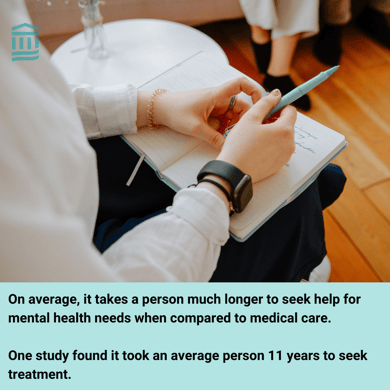 On average, it takes a person much longer to seek help for mental health needs when compared to medical care. One study found it took an average person 11 years to seek treatment. While there's still some hesitancy in discussing mental health, there has been some cultural shift. Today, more athletes and media figures open up about their mental health needs and the value of treatment, so hopefully, this continues and gets care to the broader population. To support access, here are a few different ways to start exploring behavioral health care at AllWays Health Partners:
Check out our mental health resources
If you're a member of AllWays Health Partners, we have a dedicated mental health resources page to get you started. Here is where you can find resources to support your mental health and substance use needs, including virtual care, online resources, and our provider directory search.
Explore Optum's Live and Work Well site
You can also access resources through Optum's Live and Work Well website offers self-care tools and answers to common mental health questions. Their virtual visit platform can help you connect with many providers who can see patients both online and in person. Create an account on the site with your member ID number to see personalized benefits or browse as a guest with the access code allwaysma.
Reach out to your Primary Care Physician (PCP)
Another good place to start is with your PCP according to David Macadam. He added, "If you're looking for behavioral healthcare, it is always a good idea to start with your PCP, especially if you're already comfortable with them. They can perform some preliminary high-level screening for things like anxiety and depression. At times a PCP can make recommendations for next steps in care, especially if they have a social worker or resource specialist in the office."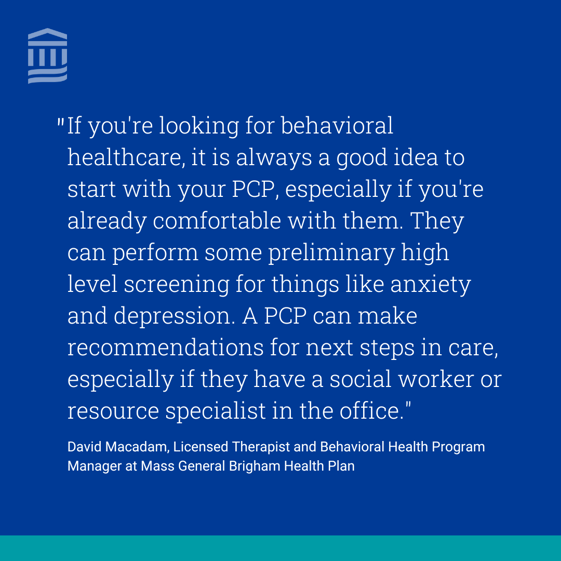 Call customer service
You can also contact customer service to find an initial list of providers for a member to outreach. If you are already a plan member, call 866-567-9175 Monday through Friday, 8:00 AM to 6:00 PM and 8:00 AM to 8:00 PM on Thursdays. You can also live chat with a customer service professional if you visit allwaysmember.org.
Talk with our recovery coaches
AllWays Health Partners was one of the first health plans in the country to employ peer recovery coaches on staff. We offer access to recovery coaches for anyone struggling with alcohol or substance use. They understand the stigma that SUDs carry—acting as guides, mentors, and advocates for recovering patients without judgment. With their help, members can explore different pathways to recovery, set attainable goals, develop healthy habits, and connect with other supports like community resources and peer recovery centers.
Research providers online
Interpersonal connections are so crucial to the success of therapy. David added, "This is what we call the Therapeutic alliance; it's one of the primary predictors of positive outcomes in therapy. You might be talking to an excellent, well-trained therapist, and it just still might not be a good fit interpersonally." To get a sense of a provider before a consult, you can screen a number of profiles on Psychology Today, which you can sort by behavioral health care providers in your area." Just be sure to confirm the provider is in-network first through our directory or customer service.

A new option: Lyra mental health support
Responding to a crisis in access to mental health services, we are pleased to announce a partnership with Lyra Health to offer a new, comprehensive solution for AllWays members that will expand the availability of high-quality mental health services and promote overall health and well-being.
​Lyra is currently available to Mass General Brigham employees with an AllWays plan and their dependents and will be available starting January 1, 2023 for many AllWays members.
Through Lyra, members can securely and confidentially seek clinically proven mental health services, find high-quality providers tailored to their individual needs, and book appointments quickly with a therapist or coach by video or in-person. Features include: Fast access to appointments, personalized navigation, and comprehensive care options.
---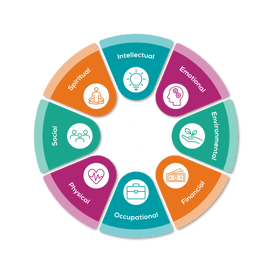 For a fresh perspective on the 8 dimensions of health and wellness, download our free eBook.