Meet Chris Bonsall: peer recovery coach at AllWays Health Partners
In recognition of National Recovery Month, we want to take this timely opportunity to share some of the life-changing work of our Peer Recovery Coaches and the impact that has on members' access to the different pathways of recovery. This week of National Recovery Month, meet peer recovery coach, Chris Bonsall, CARC.
Tell us about your journey before AllWays Health Partners and what led to your role as a peer recovery coach.
First and foremost, I have struggled with addiction since the age of 9 years old. My journey started with a recovery process. I was in trouble with the law and ended up getting put on a recovery court probation. It was called Drug Court probation, now called Recovery Court. I completed drug court probation, and through that process, I did some self-exploration and learned that I enjoyed helping others afflicted with substance use disorder, and it quickly became a passion. I initially started going to school at UMass Boston to become an addiction counselor. After working as a counselor, I completed the recovery coach academy, veered away from the clinical aspect of the recovery world, and started working as a coach. Believe it or not, I ended up working in the drug court that I had recently graduated. So, it felt like it all came full circle; it was surreal. I worked for that organization for nine months to a year, and then I applied entirely on a whim for AllWays Health Partners. I didn't think I was going to get the position seeing as I had a checkered past. So, when I got the call that I got the job, I was in tears just to see how fortunate I was to be offered such an opportunity.
Being accepted into an organization as large as Mass General Brigham made me feel like I had succeeded at something, and it kept the fire burning to want to help people. That's how I came to our members and how I help support them on a day-to-day basis.
Who do you work and interact with as a peer recovery coach?
I work with our members daily during outreach, assisting with locating treatment providers and anything else that may come up that is recovery-specific. I also help members who may be getting discharged from some level of treatment care, whether in an intensive outpatient program or in a long-term residential facility, who may need additional support.
I am a part of the Your Care Circle (YCC) team here at AllWays Health Partners and interact quite frequently with the other care managers on the team. There are multiple disciplines on the YCC team: behavioral health care managers, medical care managers, rehabilitation specialists, nutritionists, social care managers, and of course—recovery coaches.
What kind of impact does your work have on our members and community?
Recovery coaching is not only advocating for our members and others in recovery, but it's also advocating for recovery as a whole. When you talk about the multiple facets that we fill as coaches, that's one of the biggest ones. It's about showing people we can make an impact and there are gaps to fill—and recovery coaching is one of the best ways to fill some of those gaps. It's a testament to our organization that we recognize that, which is why we have coaches that can immediately respond to individuals that may be struggling with any form of substance use disorder or any addictive behavior.
Peer recovery coaching has an enormous impact on the community and our members. I often say that it's hard to gauge success in this field. However, I feel that one touch is a success. If I can get in touch with someone and I can plant a seed, and hopefully give somebody a light at the end of the tunnel, knowing that there is hope out there and they're not alone—that's a big win in my book.
What does being a peer recovery coach mean to you?
Being a peer recovery coach means understanding recovery is truly an individual process; this is an individual's journey towards some self-exploration and figuring out how to live a healthy, productive life without the added burden of substances on board.
It means being there as someone in recovery, letting the people I work with know that I've been there too. I may not have walked in your exact shoes, but our behaviors are very much the same. Being a recovery coach means that I empathize with people, understand their struggles and turmoil, and hopefully hold their hand and walk side-by-side with them. At the same time, they take that journey of getting better and healing themselves—whatever that looks like for them because it's different for everybody.
Do you like the work you do?
I do enjoy the work that I do because I am passionate about the work that I do. Like with any helping field, there are times when it can be overwhelming. You want to see people get this recovery process down, and unfortunately, chronic re-occurrence can be part of this disease. Watching individuals who do so well and then take such giant strides back; that's the tough side of my job. However, I very much enjoy my job and what I do because there is no replacement for peer recovery coaching. The proof is in the pudding. Research shows that peer recovery coaching positively impacts people with substance use disorder and assists with their recovery process.
Do health plans typically have peer recovery coaches?
AllWays Health Partners was the first health plan to employ peer recovery coaches; that's one of the reasons that I took the position because it was so cutting edge. Three years ago, when I took this role, there was no other health plan with recovery coaches on staff. We paved the way because now there are a couple of organizations that outsource recovery coaching. But still, to the best of my knowledge, we are the only organization that has peer recovery coaches to support our members on staff, which is miraculous. It's a testament to AllWays Health Partners and how much we care for our members—and how much we want to address all facets of their lives, which is unique for an insurance company.
What message do you have for anyone struggling during National Recovery Month?
The most important message I can give to anyone during national recovery month or the entire process of this recovery world is that—you're not alone. There are people out there that are willing and able to help.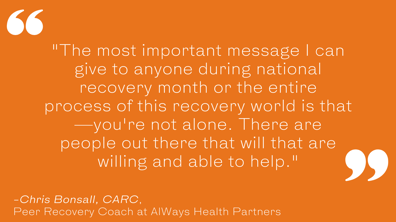 Whether it be myself, my colleague Barry, or anyone outside in the community of the peer recovery centers in the recovery world, we're here to help, and you're not alone. Even though sometimes it's overwhelming and you can feel so alone, that's the nature of our disease; it isolates us so that we don't ask for help. Tackle your fears and humble yourself so that you can ask for help—because a closed mouth doesn't get fed.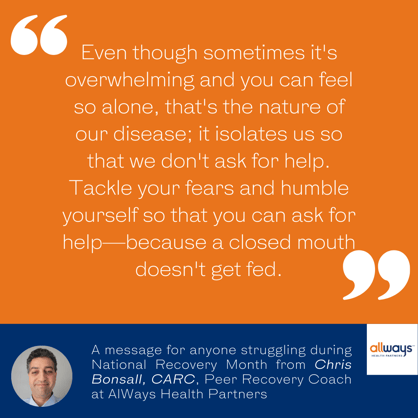 Can you talk about the support and resources available to our members—and how important they are to recovery?
Our care management team is available to all members, assisting them with anything from rehabilitation to nutrition. For example, we offer short-term meal programs for individuals struggling with proper diet because of renal failure or similar diet restricting illnesses. We also connect people with behavioral health providers. With regard to navigating the complexities of the healthcare world; It's helpful just to have someone there to say, hey, this is what you need to do, this is how you do it, and if you need me to, I can even make the phone call for you.
We have social care managers that help members who may be struggling with homelessness, food disparities, or any other issue that may impede someone from success in their recovery process. We have community health workers that help members engage in the services that are available for them. And then, of course, we have our recovery coaches for people struggling with any form of addiction; that doesn't necessarily have to be a substance use disorder; it can also be gambling, food, etc. We also have health coaches, diabetes specialists, a smoking cessation program, and the list goes on. I may be a little biased because I'm working for the organization, but I genuinely do feel that even if I didn't work here, I would want AllWays Health Partners for my insurance.
What's the greatest piece of advice you've ever heard?
"Anyone can use gargantuan idioms to fabricate intelligence. The problem with big words is they mean so little."
What I take away from that is, just being to the point and getting your point across very bluntly can mean more to someone than trying to sound superior or overly intelligent, especially if the result is that person doesn't understand what you're saying. Sometimes it's better to keep it short, sweet, and simple.
Why are peer recovery coaches so crucial during a pandemic—and outside of a pandemic?
At the very beginning of the pandemic, the CDC guidelines told people in recovery to do exactly the opposite of what we've been trained to do: reach out, ask for help, stay in contact with a close network of individuals of like mind, and go to meetings in person; show up, be there, and be present.
So, it was a big challenge when the CDC advised us to social distance and not go out to meet people. In early recovery especially, it can be tough even to pick up the phone and ask for help. Peer recovery coaches stepped up amid all the craziness by connecting individuals in recovery with support via virtual platforms and telephone. People were scrambling in the early phases of the pandemic and didn't know how to access online meetings or any self-help support groups. The beauty of it all was that we could pass down education and resources to struggling individuals. The only unfortunate part is that we couldn't touch everybody who was struggling, and unfortunately, many people paid with their lives. This dire reality only proves an immense need for peer recovery coaches before and after and during a pandemic.