Learn how much diet and nutrition can impact your mental health
Diet and nutrition play a surprising part in one's emotional wellness. What you eat can can help you lower stress, deepen sleep, and feel calmer. Read on to learn more.
Mindful eating
The promise of diet as a mental health tool is so strong that a new, rapidly emerging field has been created called "nutritional psychiatry," according to a 2017 editorial in the Proceedings of the Nutrition Society. Those authors point out that, increasingly, research is finding links between a highly-processed diet and risk for depression and anxiety.
Why the connection? Here are some reasons why a healthy diet could lead to improved mental health: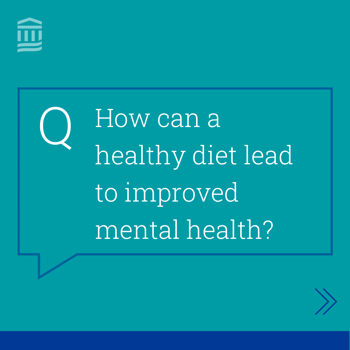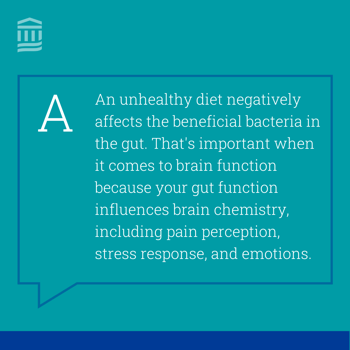 Kick off habit stacking by integrating exercise into your daily routine. A report that reviewed over 1,000 studies conducted over 30 years found significant associations between physical activity and mental health, particularly depression and anxiety. The findings were so robust that researchers believe exercise should be integrated into the prevention and treatment of mental illness and the promotion of mental wellness.
Find your starting point
Making massive changes to your diet and exercise mix can feel overwhelming, which may be one of the reasons that New Year's resolutions are notoriously tricky to maintain. Experts believe that habit change is often difficult because people tend to take an all-or-nothing approach.
Rather than throwing out everything in the fridge and starting from nothing, try a gentler strategy that builds healthier diet habits over time. Here are some ways you can get started:
Try one new-to-you vegetable this week
Replace a high-calorie, low-nutrient snack with a healthy one today
Write down what you eat or use an app so you can understand the nutrition behind what you're eating
Research one healthy new recipe to try
Notice your eating cues, like snacking when you're bored or watching TV
Recruit a friend to join you for a healthy eating challenge
Eat only when you're truly hungry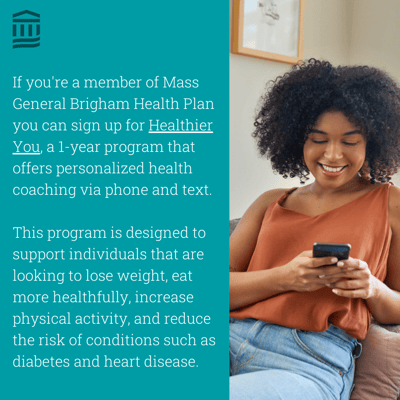 You can also talk to your healthcare provider about a referral to a dietitian or other nutrition professional, especially if you have a condition like diabetes or heart disease. Most of all, see diet changes are part of a lifelong opportunity to improve your mental health, one meal at a time.
Another smart strategy? If you're a member of Mass General Brigham Health Plan you can sign up for Healthier You, a 1-year program that offers personalized health coaching via phone and text. We designed this program to support individuals that are looking to lose weight, eat more healthfully, increase physical activity, and reduce the risk of conditions such as diabetes and heart disease.
To register, members can contact Health Coach Lisa Perea by phone at 617-282-3149.