6 healthy items to always have in your kitchen
When it comes to what to eat, the array of choices can be dizzying, even with options designated as healthy, like fruits and vegetables. Having at least a handful of tried-and-true favorites on hand at all times can help and give you a healthy boost whenever you need it. Continue reading to discover what experts recommend for that list.
1. Berries
Available in a wealth of varieties—like raspberries, strawberries, blueberries, and even goji berries—these sweet little fruits are a powerhouse when it comes to nutrition. Harvard T.H. Chan School of Public Health calls berries a top provider of vitamins, minerals, and disease-fighting nutrients, and they can help reduce the risk of many age-related conditions. One professor of epidemiology and nutrition at Harvard noted that people who eat berries seem to live longer, and it only takes a cup of fresh berries daily to reap ample benefits.

2. Mushrooms
Heading into the darker months of the winter, you might want to stock up on mushrooms every week for a mood lift. In a study published in the Journal of Affective Disorders, researchers found those who ate more mushrooms had a 43% lower risk of developing depression compared to people who didn't eat mushrooms at all. They suggested the link may be due to bioactive compounds like vitamin B12 and anti-inflammatory amino acids.
3. Salmon
Another important part of dealing with less sunlight in the season ahead is getting enough vitamin D, which has been shown to be lower for many people in the winter. Food can help, with vitamin-rich choices like beef liver, tuna fish, fortified milk, or cod liver oil. One tasty option for that list is salmon, which also provides a high level of omega-3 fatty acids—a compound linked to better brain health overall.
4. Spices
A study in the journal Antioxidants found that spices and herbs are robust sources of antioxidants, which can help reduce risk of conditions like heart disease and some cancers. Spices can also be a boon if you're trying to reduce your salt intake, and they give food more flavor and depth along the way.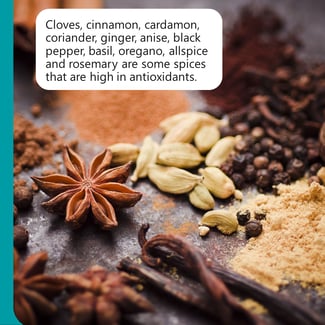 5. Prunes
Often touted for their ability to help with digestion, prunes can also be part of lowering inflammation throughout the body, improving gut health, and even supporting bone density as you age, according to a study in Advances in Nutrition. Researchers noted that prunes have minerals and vitamin K that support bone health and fiber that's good for the gut, too.
6. Yogurt
Another top pick for maintaining digestive function is yogurt, and much like prunes, that's not all it does. Research in the International Dairy Journal reports that regular yogurt consumption can help lower blood pressure, which reduces risks to heart health. Those researchers note that the effect is likely because yogurt contains calcium, potassium, and magnesium, which are all essential for cardiovascular function.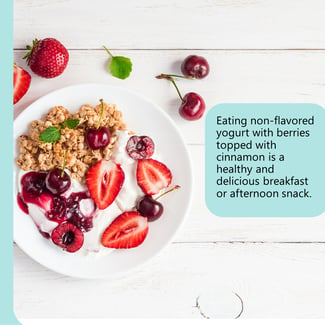 While keeping these six foods handy is a smart move, many dietitians also suggest exploring new-to-you options regularly. For example, try a different vegetable this week or a whole grain you've rarely had before, like quinoa, wild rice, or teff. Expanding your lean protein options is another way to keep meals more interesting. For example, you can try a different type of fish than you usually eat (or having fish at all if it's not part of your weekly lineup). By branching out into fresh options, you can put more diversity into your diet, and keep your favorites handy, too.
For the most up-to-date health and wellness education from Mass General Brigham Health Plan, follow us on social @MGBHealthPlan
⬇️