Here's the big link between wellness benefits and productivity
Are you looking to boost productivity for your employees? You can start by looking at your current perks or promotions to analyze how your wellness offerings are meeting employees' needs.
According to survey results from the nonprofit Health Enhancement Research Organization, a healthy workforce is much more likely to show higher levels of employee productivity and performance. Based on insights from more than 500 business leaders from across the U.S., from a variety of industries and company sizes, the survey found that most respondents view health as an investment in human capital or as part of an organization's core business strategy.
Since wellness benefits can have a significant effect on workforce productivity, they can also contribute to:
1. Lower rates of absenteeism and presenteeism
Absenteeism occurs when employees maximize sick days, take time off without warning, stop working early, or begin working late. The Centers for Disease Control estimates that productivity losses linked to absenteeism cost employers $225 billion annually.

Presenteeism occurs when employees are on the clock but not actually working or doing the minimum, which of course is harder to track. Although some presenteeism may be the result of illness or injury, research shows a clear relationship between presenteeism and health, particularly depression.

For example, in one study of employees at a large financial services firm, workers with depression were far more likely to struggle with time management, mental functioning, and interpersonal communication; plus they had lower work output overall.
2. Higher employee engagement
The Society for Human Resource Management (SHRM) notes the term "employee engagement" as the level of an employee's commitment and connection to an organization. SHRM reports that high levels of engagement have a significant ripple effect, including higher customer loyalty levels.

According to a meta-analysis of 1.4 million employees conducted by the Gallup Organization, organizations with a high level of engagement report 22% higher productivity than those with lower engagement.
3. Lower turnover
The "Great Resignation" wave has highlighted the costs of replacing employees. According to some estimates, replacing workers requires up to two times the employee's annual salary in some cases.

For the employees who stay put, productivity can tank, mainly due to lower morale, uncertainty about the organization's long-term health, potentially higher workloads, and an eroding culture of trust.
Each of these outcomes can lower costs and increase productivity on their own, but when combined, that can send productivity and performance levels soaring.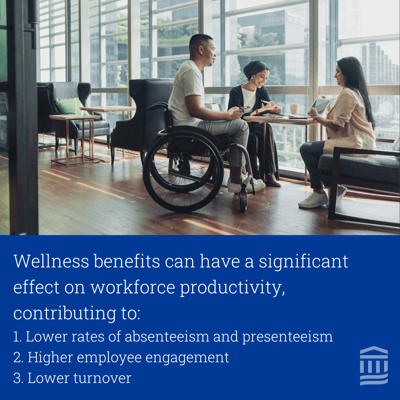 Wellness benefits that matter
When looking at employee benefits, it's helpful to start with the macro trends happening in workforces of every size. According to a LinkedIn survey, the following factors have become bigger priorities for workers since the pandemic began:
50% want more flexibility in their hours and/or location
45% care more now about their work/life balance
41% are looking for more benefits such as mental health care and increased PTO
36% care more about their workplace culture than they did before
Only 36% of people surveyed said their salary was more important now than before the pandemic.
Creating a wellness-benefits blend that taps into these preferences is crucial, but keep in mind that there's no one-size-fits-all approach that will be a match for every workforce.
For example, you may see a very low rate of tobacco use at your company, which will likely cause a robust smoking cessation program to be underutilized. Or you could have high rates of issues like back pain, headaches, and exhaustion, which are all major signs of stress—so offering stress-reduction resources may be a boost for employee health and productivity.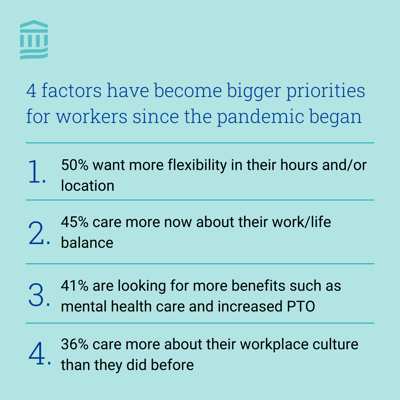 To design a program that is tailored toward your organization's needs, the SHRM suggests starting with these steps:
Establish an employee-driven wellness committee, which can build and sustain a wellness culture, and also makes employee input a top priority.
Do a workplace health assessment that can identify the current picture of health at the company as well as any factors influencing employee health, from high blood pressure to ergonomics to fitness levels.
Conduct employee surveys to ask about interests and needs. The CDC provides guidance on how to design, administer, and analyze surveys for better workplace health.
With a better understanding of what wellness offerings would provide the most value to your employees, you'll likely move towards productivity and performance gains for your organization. Get started by downloading our ultimate guide to winning with workplace wellness.