This is what turns new hires into long-term employees
When it comes to recruiting, it's currently a candidate's market. As of May 2022, the U.S. unemployment rate is 3.6 percent, and if it drops by only 0.2 percent in subsequent reports, it will be the lowest rate in the last half-century. What does that mean for employers? Recruiting is more important than ever, especially if you're looking to retain those employees once they join your company.
Compensation will always top the list as a major factor for candidates, but money is far from the only consideration. In fact, some candidates may opt for a lower starting salary compared to other offers, as long as an organization is offering what they truly want. Here's a cheat sheet on what they care about most:
Meaningful benefits
According to the Society for Human Resource Management (SHRM), benefits can be a highly effective recruitment tool, but they're often not discussed fully until the onboarding process, which means candidates don't know the extent of what's being offered. SHRM notes that if they're told in advance, benefits could be the deciding factor for joining a company if they're weighing several offers.
While fun perks like wellness apps or gym memberships are considered nice to have, SHRM suggests these are the ones new hires care about most:
Health insurance
Paid time off/vacation days
Vision/dental insurance
401(k) retirement plans
Life insurance
Short and long-term disability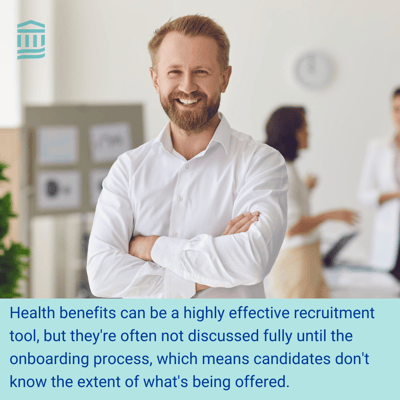 The organization adds that in the current economic climate, offering financial wellness benefits could also be a boon, such as providing free wealth advisor appointments.
In a survey by Prudential Financial of over 2,000 employees at U.S. companies just over half of them said they'd be willing to take a chance on a new job if it offered better benefits than their current position.
Flexible work situations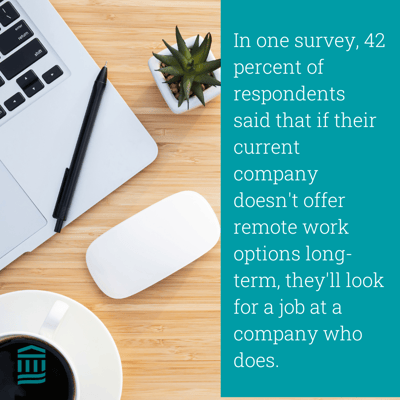 As offices and other workplaces opened back up after Covid-19 restrictions, many employers found that employees were reluctant to return, and not just due to health concerns.
The Prudential survey noted that people discovered advantages in remote work—like no commute, more time with family, and higher productivity thanks to fewer workplace distractions—and although most surveyed did appreciate occasional in-person time with colleagues, many prefer to remain mainly remote.
For example, according to the survey, 42 percent say if their current company doesn't offer remote work options long term, they'll look for a job at a company that does.
Obviously, not every workplace can maintain that policy, but it may be worth reviewing productivity and employee retention data from the past few years to get a better understanding of whether remote work was a hindrance or a boon.
Career development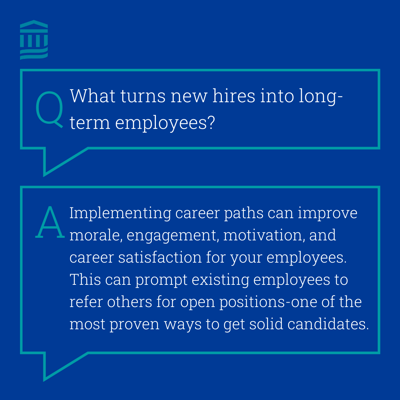 When talking with a potential new hire, is it too early in the process to map out professional growth for the future? It turns out that it may be another deciding factor in your favor. That's because candidates want to feel that you're investing in them, not just filling an open position.
Talking about career paths and career ladders shows candidates there's an internal, supportive process for promotions and skill building. SHRM adds that implementing career paths can have a direct impact on the entire organization by improving morale, engagement, motivation, and career satisfaction. That creates a strong company culture that can prompt existing employees to refer others for open positions—one of the most proven ways to get solid candidates.
Company values
Since the start of Covid-19, candidates have been rethinking what they want from employers, according to a LinkedIn study on market drivers for recruiting. Work-life balance is still important, but it's dropped from being in the primary spot, and compensation isn't even in the top three. Flexible work arrangements are the main consideration, and the next is an inclusive workplace.
Company culture has always been important, but it may be more crucial than ever right now. When candidates have a breadth of opportunities, they'll look for reasons to join your company over another. Understanding your company's values, commitment to employees and clients, and other factors provides a sense of stability and mission.
Research firm Gartner released a report in January 2022 that encourages companies to pivot away from fearing the Great Recession toward embracing the "Great Reflection." There's a fundamental shift in how people are reflecting on their lives and work, and that's led to more demand for a purpose from both life and work.
The report adds that "smart employers will acknowledge this truth and respond with a more human and purpose-driven employment deal."
To get a better understanding of which benefits and wellness offerings would provide the most value to your employees, download our ultimate guide to winning with workplace wellness.