Do your patients know about Path to Lifestyle Change?
AllWays Health Partners and The Massachusetts General Hospital Diabetes Center offer Path to Lifestyle Change: a two-year remotely delivered diabetes prevention program for those with prediabetes and at high risk to develop type 2 diabetes. For your eligible patients, this is a fully covered benefit for AllWays Health Partners members. In recognition of National Diabetes Awareness Month, continue reading to learn how your patients can enroll and gain insight from Linda Delahanty, MS, RD, the Director of Nutrition and Behavioral Research at the Mass General Diabetes Center.
Can you speak to some of the learnings from the Path to Lifestyle Change program?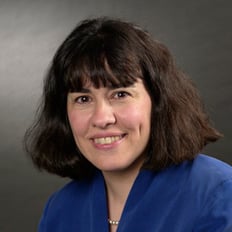 We have learned that people like that the program provides structure and flexibility within that structure. We have also learned that people value the 2-year length of the program as it gives them the time to learn the skills to lose weight, increase activity, and keep the weight off. Participants learn how to reset themselves if they get off track, so they feel more confident in their abilities to sustain their weight loss. One participant said, "2 years is a good thing; this program is the bridge to the rest of my life."
Another participant added, ""I struggled with losing weight for years…. I think my group mates all agree that what makes this program stand out is the length of it. I can lose weight in 6 months, but keeping it off is the challenge!! 2 years is definitely conducive to lifestyle change."
We have 173 AllWays Health Partners members currently enrolled, and the first participants will finish the program in January 2022. After receiving satisfaction surveys at the six-month point in 2020, we learned that people are really pleased with their results. Many have noted that their A1Cs have returned to a normal range. We are glad participants have successfully lost weight, especially since we've delivered this program remotely during the pandemic. It's made it very convenient for people to participate in the program from home and still feel like they're taking care of themselves. Over the course of the pandemic, the average weight gain has been 29 pounds. We know that in our program so far collectively, the participants have lost close to a ton of weight; that's 2000 pounds collectively. Speaking to the program, one participant explained: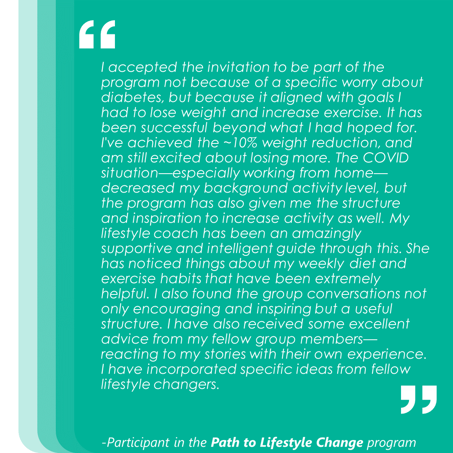 What message do you have for providers during National Diabetes Awareness Month?
It is crucial to identify and diagnose prediabetes and diabetes early and refer patients to nutrition and lifestyle programs aimed at diabetes prevention and treatment. Path to Lifestyle Change is a two-year diabetes prevention program delivered remotely to patients with prediabetes—and at high risk of developing type 2 diabetes. It is a covered benefit for those with AllWays Health insurance who are eligible based on hemoglobin A1c (A1c 5.7-6.4) or diabetes risk test score (>5).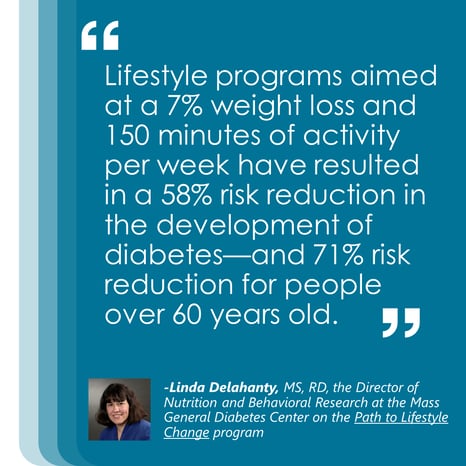 Lifestyle programs focus on a variety of nutrition, activity, and behavioral topics. They teach patients skills in ways that are liveable and sustainable. If patients develop type 2 diabetes— then lifestyle programs aimed at 10-15% weight loss can lead to diabetes remission: normal blood sugars without needing any diabetes medication. The greatest chance of achieving diabetes remission happens if patients focus on lifestyle programs to lose weight and increase activity right away or within the first six years of diagnosis.
If patients want to determine if they're eligible to enroll in Path to Lifestyle Change, they can start by taking this test.
To learn more about the evidence of Path to Lifestyle Change, click here.