5 winter weather safety tips
For those who live in northern locations where snow shovels and shoes with good tread replace lawnmowers and flip-flops every year, winter safety strategies are essential. Although you may already know about keeping walkways clear of snow and ice to prevent falls, other precautions may not be as obvious. Continuing reading for five winter safety tips to consider.
1. Have a plan in case your electricity goes out.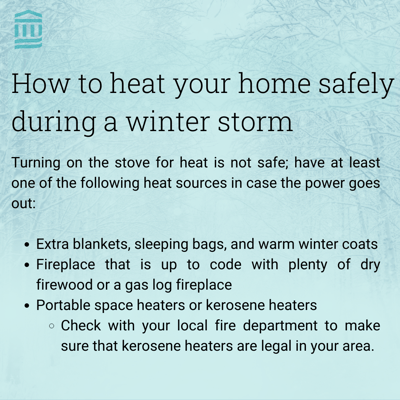 During winter storms, power can get knocked out, sometimes for days. Since many heating systems rely on electricity to operate, that means it might become necessary to stay warm in other ways. The Centers for Disease Control and Prevention (CDC) suggests making sure you have extra blankets and sleeping bags on hand.
If you have a fireplace, have it cleaned in advance of any winter weather, and ensure that you open the flue so it's properly vented to the outside. The CDC adds that you shouldn't burn paper in the fireplace, since the embers can float into the room and become a fire hazard.
2. Protect your pipes.
When the weather gets particularly cold, it can cause pipes to freeze, especially if they're located on an outside wall. Not only does this mean you'll be without water in your home, but you may also incur significant damage when they thaw, since the change may prompt pipes to burst open and need replacement.

To prevent this, the

National Weather Service recommends

letting hot and cold water drip at night from one of your faucets, opening cabinet doors to allow more heat to get to un-insulated pipes under a sink or near an outer wall, and setting your heat no lower than 55 degrees. If your pipes do freeze, the agency suggests shutting off the water immediately and then using a hair dryer for thawing.
3. Have a safety kit in your vehicle.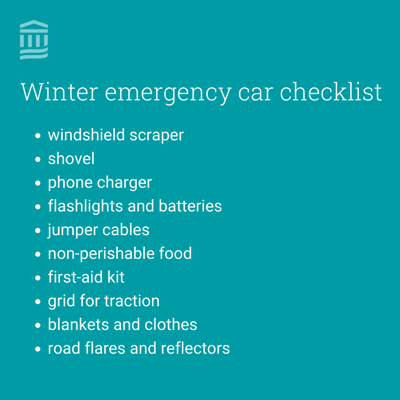 Winter driving can get treacherous when sudden weather conditions like a blizzard come up. Even a clear, bright day can take a turn if you hit a patch of ice and end up in a ditch. Because of that, make sure you have a winter safety kit in each vehicle in case you become stranded. The Wisconsin Department of Transportation suggests keeping this kit in your back seat in case your trunk jams or is frozen shut.
Items to consider include: blankets or sleeping bags, a first-aid kit, a flashlight with extra batteries, extra socks, a warm hat, gloves or mittens, sand or kitty litter for traction if your vehicle is stuck, windshield scraper, non-perishable food like trail mix, drinking water, and jumper cables.
4. Know the signs of cold stress.
Whether you're working or playing outside, it's important to know the symptoms of cold stress, according to the Occupational Safety and Health Administration (OSHA). Symptoms include reddening skin, tingling, pain, swelling, leg cramps, numbness, and blisters.
OSHA adds that these can be more prevalent in low wind chill temperatures, even if the temperature, in general, is above freezing. For prevention, drink warm liquids, take frequent breaks in warm areas, and stay aware of your physical condition.
5. Dress in layers that keep you dry.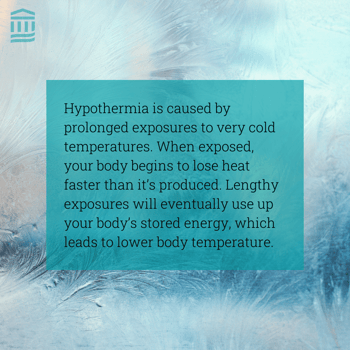 Staying warm is crucial for preventing hypothermia and frostbite when you go outside, and part of that effort is making sure you stay dry as well. The CDC notes that while hypothermia is most likely at very cold temperature, it can occur even at cool temperatures (above 40 degrees Fahrenheit) if someone becomes chilled from rain, sweat, or submersion in cold water. Because of that, consider base layers for your clothing that are sweat-wicking, which means the moisture won't be against your skin while you're outside.
Overall, winter safety is about hoping for the best but anticipating the worst. Weather changes like blizzards and ice storms can come up suddenly, and being as prepared as possible can go a long way toward keeping you and your family safe.
For more health and wellness education from Mass General Brigham Health Plan, follow us on social @MGBHealthPlan ⬇️