Reproductive care is essential to healthcare
The Supreme Court issued its ruling on Dobbs v. Jackson Women's Health Organization on June 24, 2022, that overruled Roe v. Wade, eliminating the constitutional right to an abortion after almost 50 years in a 6-to-3 ruling. Each state can now decide if abortion should be allowed and under what situations.
"We understand that overall health and well-being include access to reproductive health. While the right to reproductive healthcare and abortion services will remain available here in Massachusetts, this decision will have major impacts on the patients living in the many states where this is not the case. Our commitment to covering reproductive healthcare remains unchanged, and we are working to ensure that our members continue to have access to these services," said Farah Shafi, Deputy Chief Medical Officer at AllWays Health Partners.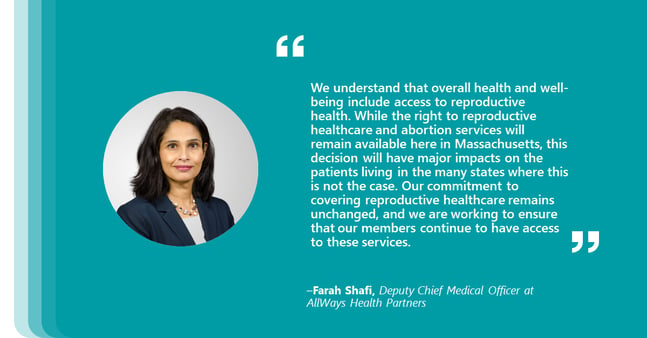 When the draft opinion was leaked in May 2022, more than a dozen states had trigger laws that would initiate anti-abortion policies if Roe v. Wade was overturned. While some bans require further ministerial action in order to take effect, some states were able to ban abortion the day the ruling was released. To date, Texas, Oklahoma, Louisiana, Arkansas, Mississippi, Alabama, Tennessee, Kentucky, Ohio, Missouri, North Dakota, South Dakota, Wyoming, Utah, and Idaho have laws that either ban, mostly ban, or will ban abortion following Dobbs. The Washington Post noted, "While all of these laws make exceptions for the life of the mother, most do not include exceptions for rape and incest." In addition, Georgia, Iowa, and South Carolina are expected to ban abortion within the next several weeks.
So, where does our country stand on this debate? Gallup has been tracking Americans' preferences since 1989—and the data shows that most Americans disagree with the Supreme Court's decision to overturn Roe v Wade. In fact, since 1989, support for reversing the decision has averaged 32%, while the opposition has averaged 59%.
In addition, the data shows that the medical community views abortion as an essential component of comprehensive healthcare. The American College of Obstetricians and Gynecologists (ACOG) reports that 95% of obstetrician-gynecologists would help a patient in need of an abortion in some way, regardless of the obstetrician–gynecologist's personal feelings. To underscore the medical necessity of reproductive care, ACOG has issued several evidence-based clinical practice guidelines on abortion:
Resources
• Centers for Disease Control and Prevention (CDC)'s Reproductive Health hub
• Department of Health and Human Service (HHS)'s Reproductive Health Care: Know Your Rights
• Massachusetts Department of Public Health's Sexual and Reproductive Health Program (SRHP)