How to get involved during Eating Disorders Awareness Week
This year, the National Eating Disorders Association recognizes Eating Disorders Awareness Week from February 29th to March 5th, offering an opportunity for everyone to think more deeply about how eating disorders might be impacting their families, communities, and possibly themselves.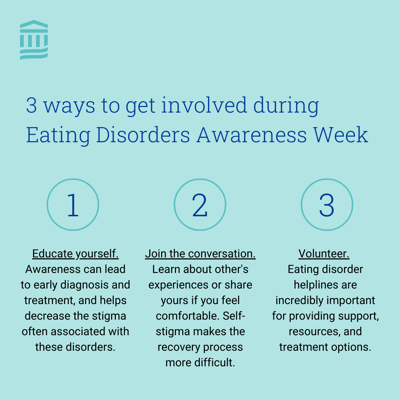 According to the National Institute of Mental Health, eating disorders are serious and sometimes even fatal. They include binge eating disorder, bulimia nervosa, and anorexia nervosa, and all include an obsession with food, body weight, and body composition. A common misconception is that they're a lifestyle choice, but these disorders are associated with disturbances in how thoughts and emotions are translated into behaviors, specifically around food.
In terms of potential food addiction as part of an eating disorder, that's increasingly common, even among older adults. A recent poll from the University of Michigan found about 13 percent of people aged 50 to 80 have an unhealthy relationship with food and addiction indicators such as intense cravings, inability to cut down on consumption of highly processed foods, and signs of withdrawal.
Here are three ideas for how you can get involved in the awareness week, and possibly throughout the rest of the year, too:
Educate yourself
Even if you've never had any concerns around eating, weight, body dissatisfaction, or nutrition, it's likely you've known someone who has struggled with eating disorder issues, and you didn't realize it. Learning to recognize the signs and being open-minded about their experiences can go a long way toward being more aware of the nuances around eating disorders.
Awareness can lead to early diagnosis and treatment and helps decrease the stigma often associated with these disorders. Consider learning more about the different kinds of eating disorders and their characteristics, and take a moment to examine whether you carry any misconceptions that might shade your perspective.
For example, many people might think eating disorders only affect adolescent girls who are underweight. But these disorders affect men, women, and boys, and can happen at any age, occuring across a range of body types, including those at higher weights.
Join the conversation
If you have struggled with an eating disorder or went through a period of disordered eating, talking about it can not only help you process how that affected your life but also encourages others to be more open as well.
Part of the difficulty with eating disorders is the stigma behind them, which is very common, according to research on stereotypes, prejudices, and discrimination against people with these disorders. That research notes that self-stigma makes the recovery process more difficult, in part because it creates more isolation.
If discussing an eating disorder isn't something you've done before, it's helpful to find examples of people who've delved into their own experiences. That can include online posts, essays, and memoirs that offer first-person insights. These are also invaluable if you're trying to help a loved one with an eating disorder and you're trying to understand what they're going through.
Volunteer
Eating disorder helplines are incredibly important for providing support, resources, and treatment options for people with eating disorders as well as their loved ones. Although helplines don't substitute for professional help, they're often a starting point when people aren't sure where to turn. These crisis lines are accessible through a call, text, or online chat, and many are staffed by volunteers.
You can also contribute your time and expertise in other volunteer positions, including helping to provide content to an organization like the National Eating Disorder Association, participating in fundraising walks that boost awareness, or leading workshops at schools.
No matter how you decide to participate, just taking more steps toward understanding eating disorders and how they affect others will help build empathy and community—not just during February, but also throughout the year.
You can find additional support and resources on this FAQ by Mass General Hospital.