Meet Nicole Cardwell: Employee Spotlight
This week, meet Nicole Cardwell, Clinical Support Coordinator at AllWays Health Partners, to learn how care managers support our goal of helping people lead healthier lives.
Why is care management so important to our members?
Care management is crucial to our members at AllWays Health Partners because most people don't have quick access to someone like a nurse who will promptly answer their health care questions. When you're on the other side of healthcare, it's helpful to have care managers guide you through the red tape. To be able to have those answers when you need them most—makes a difference for our members.
Medical terms can be confusing. Care managers have the approach of, "let's talk about what's going on—and let me explain it to you." They speak in a layman's term, providing answers to questions around health care. When a member talks to a care manager, they're relieved because they've been given the information they understand.
It's important our members know that case managers are there to help and assist them.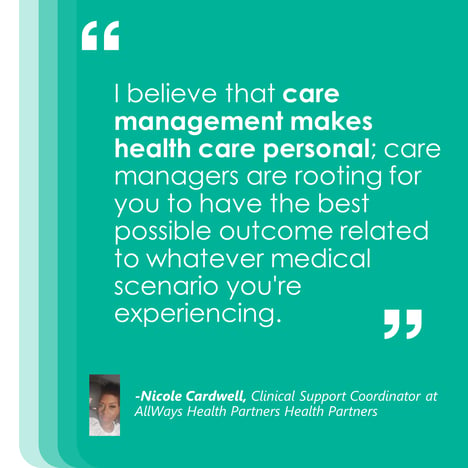 I'd also say that care management is a cornerstone of healthcare. Typically, you might not find health care nurses working for health insurance companies. It might not seem that it would fit, but in our case, it does. It fits because AllWays Health Partners wants to ensure that we have the right tools in place for every member throughout the continuum of care.
What does your day-to-day look like?
I communicate and work with our customer care centers and nurses to address urgent requests. I also update and manage our clinical SharePoint site to share the latest updates with our clinical department. Our care management team interacts with a variety of different departments to deliver high-quality care to our members. As a Clinical Support Coordinator, I interact with my colleagues and healthcare professionals, coordinating appropriate care to our members.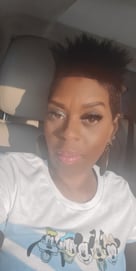 I interact with customers who may be the members themselves or an employer who ensures their employees through AllWays Health Partners. In my role, my communication considers my audience in a sensitive, caring, and understanding manner. Working with care management has been a central part of my growth and development.
AllWays Health Partners encouraged me to continue my education and actively participate in my growth. I've gained exposure to different areas within the organization. My role has transitioned to be more hands-on with supporting our care management team and developing our offerings to offer a better member and provider experience.
What do you like about working at AllWays Health Partners?
I can honestly say I love all the people I work with. My work environment is positive and supportive—and everyone works well across different departments. We are all treated with respect. Each day I look forward to having the opportunity to help one of our members through whatever medical situation they're facing.
I also love that AllWays Health Partners is a member of Mass General Brigham, as it opens up the door to so many other opportunities. I find health insurance so interesting because everyone needs some sort of health care; the best part is having the chance to help people who may not understand their health plan. As a member of our health plan—and an employee of our health plan I can empathize with anyone I'm assisting by putting myself in the member's shoes
What is one thing that you think everyone should know about health care?
Everyone should know that you have control over your health care as a member. I think many people who might not fully understand health care fall under the misconception that it's out of their hands.
Remember that you can call to ask questions. Your health plan is yours—and you can have a say. Of course, some rules can't be broken or altered, but you have a voice and a right to speak to your health care plan.
What would be your biggest piece of advice to anyone interested in entering the health care industry?
In order to work in health care, you must have compassion and understanding. My biggest piece of advice for anyone interested in joining the health care workforce would be to come in with an open mind and an open heart—with a great level of understanding.
What's the biggest lesson you've taken away from this past year?
We've all had no choice but to confront racism and inequality this past year. As a woman of color, I am so proud and so comfortable working for an organization like AllWays Health Partners and Mass General Brigham because of their transparency and education on these issues. They talked about things that they knew were uncomfortable but important for everyone to understand. They care enough about us as employees and human beings to share the feelings of grief, sorrow and fear that we all felt this last year.
It's been a wonderful roller coaster, one that I appreciate. My biggest takeaway was the compassion they've shown all of us.