Did you know that yoga can boost your immune system and increase productivity?
Have you tried yoga before? No matter your level of experience, yoga works with everybody. Practicing yoga offers many health and relaxation benefits through breathwork, meditation, and bodily postures. Learn more about how yoga can support you along your wellness journey, along with some advice from Lisa Staffiere, Registered Yoga Teacher (RYT) and Senior Employee Assistance Program Consultant at Mass General Brigham.
When we're stressed out, we may take shallow breaths or even hold our breath. Implementing yoga into your daily routine allows you to tie movement to your breath. Being mindful of our breathing enables access to more oxygen which can help manage stress and increase productivity. Yoga has also proven to improve the immune system and decrease inflammation.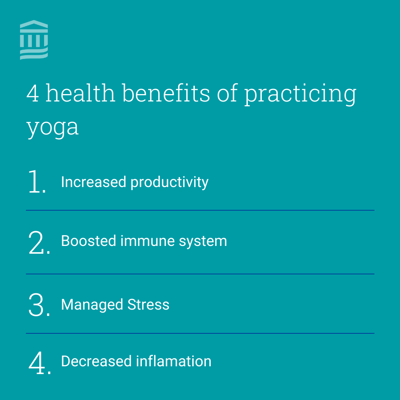 That's why it's never too late to start yoga and start reaping the many health benefits. Lisa Staffiere, Registered Yoga Teacher from Mass General Brigham, agrees. "People should not hold back from doing yoga because yoga is for all body types. Most teachers recognize that we have different bodies and different flexibility, so don't compare yourself to other students and go at your own pace."
While many employees still work remotely, it's especially important to ensure you're not seated for too long. Harvard Medical School found evidence that suggests spending too many hours sitting is hazardous to your health. They discovered that habitual inactivity raises risks for obesity, diabetes, cardiovascular disease, deep-vein thrombosis, and metabolic syndrome.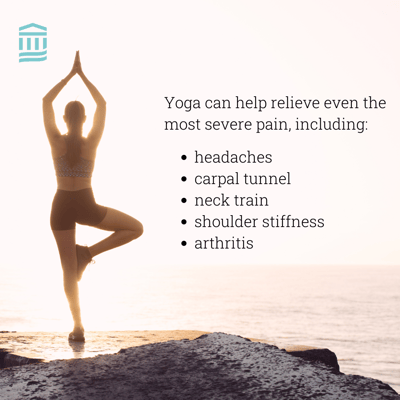 Yoga can help relieve even the most severe pain, including headaches, carpal tunnel, neck strain, shoulder stiffness, arthritis. If you feel like you don't have time for yoga, desk yoga might be an excellent place to start. "One of the nice things about yoga is that everything can be modified. In fact, it's ideally suited for interspersing throughout the day," said Lisa Staffiere, an RYT with more than 20 years of experience. She's led several virtual Yoga at Your Desk sessions and takes every opportunity to move her body throughout the workday.
Lisa said, "If I'm on hold with somebody, I might raise my shoulder, circle them back and do some shoulder rolls. If you're about to go into a stressful meeting, I recommend you raise your arms and bring your hands back to your heart. You could also take a break and do a series of poses, but you don't have to go anywhere. You don't need equipment. There are tons of yoga poses you can do right from where you're sitting."
Here are some simple poses you can do in between meetings or during a phone call:
Ankle circles
Desk Chaturanga
Forward fold
Shoulder shrugs
Seated cat and cow
Seated forward fold
Seated side stretch
Seated tadasana
Shoulder opener
Seated backbend
Seated twist
Seated pigeon
Wrist circles
You can find supportive visuals for some of these movements here and below: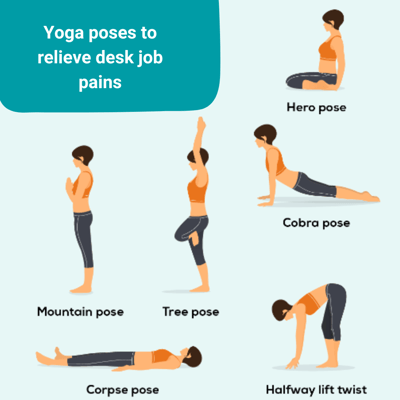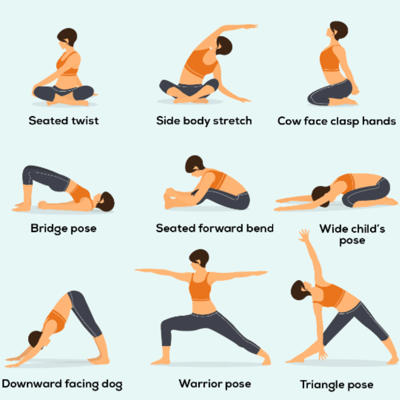 Whatever your style is, there is a yoga class for you. There's hot yoga for those that want a real good sweat and a workout that stretches tight muscles. There's also Yin yoga which focuses on breathing while holding poses for much longer. There's Vinyasa or flow yoga for individuals looking for more of an active session.
To learn more, read 7 tips for starting yoga for the first time.