How to find answers to your patients' top vaccine questions
UPDATE: Massachusetts Gov. Charlie Baker announced Wednesday that teachers, early educators and school staff members will be eligible to begin signing up for COVID-19 vaccine appointments starting on March 11.
Individuals 65+ and individuals with 2+ certain medical conditions became eligible for the vaccine on February 18, 2021. Learn more.
The Massachusetts's Department of Public Health (MDPH) has made it easy for providers to find answers to common questions during the pandemic and now in the vaccine phase. Their website provides updates on administrative considerations, vaccine allocation and distribution, administration, prioritization, vaccinating healthcare providers, safety, vaccine storage, MIIS registration, enrollment, and training.

Below, providers can reference some of the most relevant resources to share the latest information with patients guided by the MDPH and CDC.
Learning opportunities available from the MDPH
MDPH: COVID-19 Vaccine Live Q&A. These live Q&A sessions are meant to supplement the training modules created by the MDPH Immunization Division.
Vaccine safety
According to a recent study by Welltok, ​only 69% of survey respondents said they would get the vaccine when it became available to them. The COVID-19 vaccine has been shown to be highly effective at preventing illness, and it is an important tool in the fight against the pandemic. The State has resources for patients on the site for their "Trust the facts. Get the Vax" campaign. If you have patients with questions regarding vaccine safety related to pregnancy and fertility, you can find those answers here.
Vaccine prioritization
Massachusetts is rolling out the vaccine in three phases. Many of your patients may not know what phase they fall into, and the State has a helpful graphic they can reference. In phase 2 group 2, Massachusetts will prioritize people with underlying medical conditions. You can find a list of those conditions here.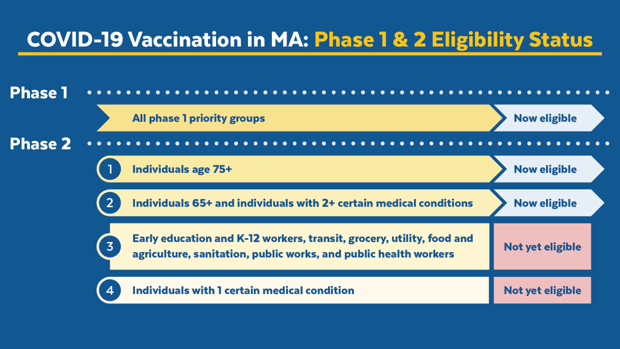 Vaccination storage
Here you can learn more about storage supplies, shipments, and inventory. If there is any change in your storage capacity, you can email the DPH Vaccine Unit at dph-vaccine-management@massmail.state.ma.us to update your information Additionally, you can find more information on MIIS registration, enrollment, and training here.
View the entire provider FAQ by the MDPH at mass.gov or download a copy.
Additional references
We will continue to keep you updated on the latest information. Be on the lookout for additional communication as the vaccine rollout continues.