Physician burnout: Which specialties top the list?
Medscape published their 2020 National Physicians Burnout & Depression Report on January 15, compiling survey results from over 15,000 physicians in more than 29 specialties, the report provides an update on one of medicine's top issues: physician burnout.
The Medscape report compares physicians across specialty, gender, and even generational lines to find out which groups experienced higher rates of burnt out and depression. Although the percentage of physicians with burnout has decreased slightly since last year (44% down to 42%), burnout is still a huge problem in the medical community. As the causes of burnout are studied, ways to fight burnout are also being developed.
Which physicians experience the most burnout?
Medscape found that women experienced more burnout than men, with 48% of female physicians reporting that they felt burnt out compared to 37% of male physicians reporting the same. Medscape also compared the rates of burnout across generations, looking at the burnout rate of millennials (which they defined as 25 to 39 years old), Generation X (40 to 54 years old), and baby boomers (55 to 73 years old). Generation X reported the most burnout at 48%, while baby boomers had a burnout rate of 39% and millennials had a similar rate of 38%.
The most varied rates of burnout, however, were found when Medscape compared different specialties. According to their survey, the specialties with the highest burnout rates are urology, neurology, nephrology, diabetes/endocrinology, and family medicine. Meanwhile, the specialties with the lowest burnout rates are otolaryngology, psychiatry, orthopedics, ophthalmology, and public health/preventive medicine.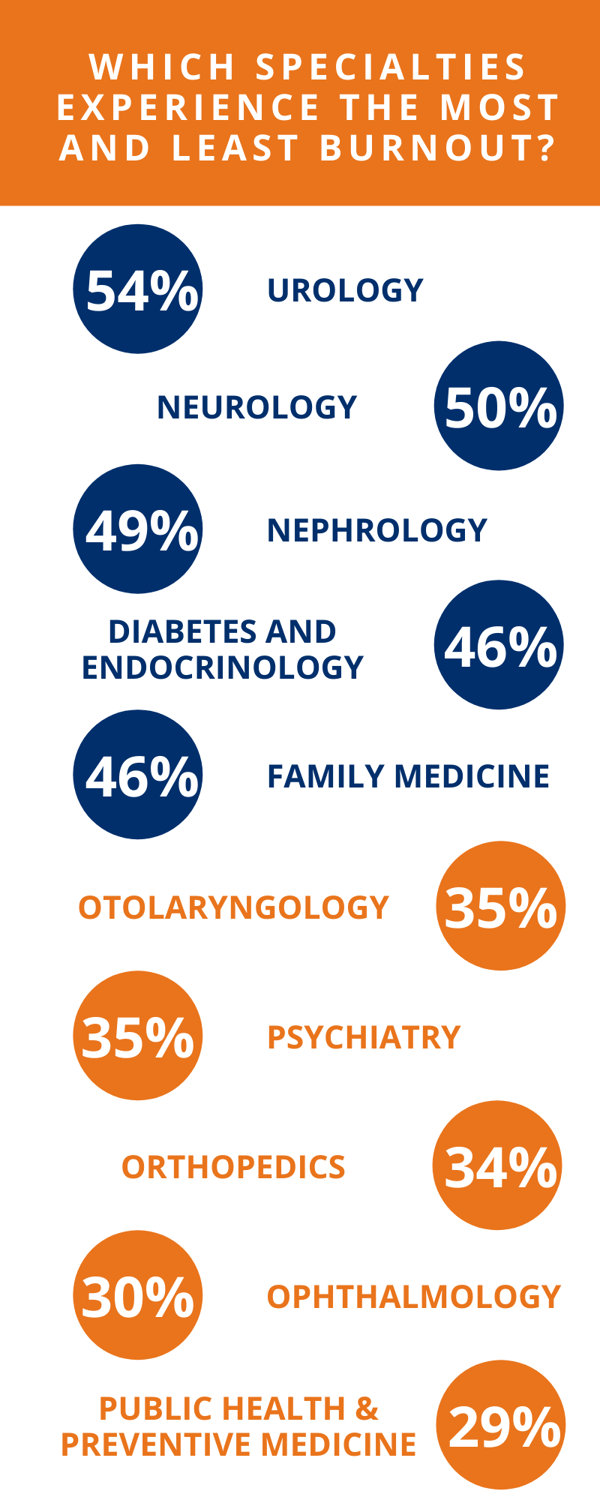 Where physicians practice also plays a role in burnout. Physicians in healthcare organizations experience the highest rate of burnout at 48%, while physicians in office-based solo practices experienced a 36% burnout rate. According to Medscape, physicians with solo practices might experience less burnout because they are in charge of their own workload.
What causes burnout and how can it be mitigated?
In addition to asking physicians if they're experiencing burnout, Medscape's survey also asked them what they believed the causes to be. 55% of surveyed physicians reported that they had to deal with too many bureaucratic tasks, making it the most commonly-cited cause of burnout. In addition, 33% said they were spending too many hours at work, and 32% experienced a lack of respect from administrators, employers, colleagues, or staff. These results are unsurprising: Medscape notes that long hours, workload, and a lack of support have consistently ranked as the top causes of burnout over the years.
Unfortunately, when asked how they were coping with burnout, more than 60% of physicians said that they aren't seeking help and don't plan to. Half of these physicians felt their symptoms weren't "severe enough," while others believed they could push through it without help or that they were too busy to seek treatment. But treatment for burnout is necessary not just for the mental wellbeing of physicians, but for the wellbeing of their patients as well. Advisory Board states, "Physician burnout is linked to a 16% decrease in patient satisfaction, an 11% increase in reported medical errors, increased turnover, and early retirement." Since burnout rates don't seem to be decreasing significantly, this issue will likely continue to be a problem in the medical community for years to come.
In light of this, Advisory Board has identified four strategies for leaders to mitigate the main causes of physician burnout, which are increased regulatory burden, overextension, lack of clinical autonomy, and emotional exhaustion. Physicians sometimes spend up to 11 hours a week on non-clinical paperwork, which contributes to burnout. To remedy this, Advisory Board suggests creating a physician listening campaign: Make safe spaces for physicians to report their experiences and issues, and find and address quick win operational issues to reduce daily frustrations. Many physicians feel they aren't able to provide the highest standard of care possible, so employers should offer positive feedback and share comments from qualitative sources like patient satisfaction surveys. They should also track and praise physicians for work done outside of patient visits, such as documentation and organizational duties. To alleviate the lack of autonomy, physicians should be given decision-making control where appropriate and shown that their point of view is being considered with any new initiative. Emotional exhaustion can be mitigated by offering support to physicians and removing barriers to accessing professional mental health care. The common thread across Advisory Board's recommendations is making sure that physicians are supported professionally, mentally, and emotionally. Without that support, burnout runs rampant.
If you believe you are suffering from burnout, you should seek help even if you don't think it's "bad enough" to need treatment. There's no shame in admitting you need help, and untreated burnout only gets worse and worse. If you have a colleague who seems to be suffering from burnout, offer support and encourage them to seek help as well. The more the medical community understands burnout and takes effort to mitigate it, the better off everyone, from providers to patients, will be.