3 Ways to recognize Autism Acceptance Month
April is Autism Acceptance Month, highlighting the contributions and challenges of those who've been diagnosed with autism spectrum disorder.
With that in mind, continue reading for three ideas to help you recognize Autism Acceptance Month, and keep that going for the rest of the year, too.
1. Emphasize acceptance over awareness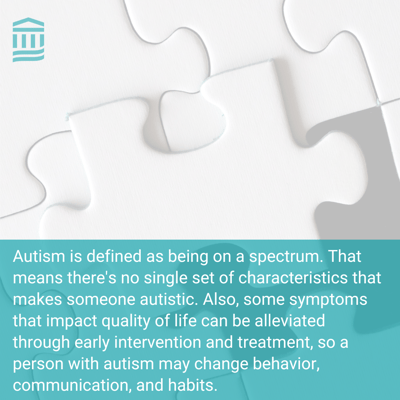 Sometimes called Autism Awareness Month, the Autism Society of America suggests that the use of the word "acceptance" creates a deeper sense of community action and empowerment. "We believe that acceptance is creating a world where everyone in the Autism community is connected to the support they need, when they need it," the group notes. "And by everyone, we mean every unique individual: the implacable, inimitable, and irreplaceable you."
This terminology shift is important because it can ignite change through improved support and opportunities in education, employment, accessible housing, affordable health care, and comprehensive long-term services, according to the Autism Society.
Awareness is always important, but the next step is acceptance, because it means better integration for those living with autism—that's why the Autistic Self Advocacy Network has been framing April as Autism Acceptance Month since 2011.
2. Learn more about autism
Although the depiction of people with autism has become more nuanced and realistic in films, TV shows, and novels, there are still many misconceptions about the condition. Learning key facts from reliable sources is an essential part of understanding more about autism. For example, according to the National Autism Association:
Autism is a bio-neurological developmental disability that generally appears before age 3 and impacts the way the brain develops in the areas of social interaction, communication skills, and cognitive function.
The condition is diagnosed four times more often in boys than girls. Currently, one in 44 children in the U.S. has autism.
Those with autism can face

a range of challenges with communicating

Those with autism are at higher risk for several other conditions as well, including gastrointestinal problems, anxiety disorder, sleeping issues, allergies, asthma, and autoimmune disorders.

Keep in mind, too, that autism is defined as being on a spectrum. That means there's no single set of characteristics that makes someone autistic. Also, some symptoms that impact quality of life can be alleviated through early intervention and treatment, so a person with autism may change behavior, communication, and habits.
3. Get involved
There are numerous autism organizations focusing on support, research, and advocacy. You can select a group based on its mission—for example, one that helps connect families with medical resources, or one that advances research opportunities. Here are a few to consider for support:
The Organization for Autism Research (OAR) aims to use science to address the social, educational, and treatment concerns of those with autism as well as caregivers and professionals in the field. For Autism Acceptance Month, OAR offers ways to get involved, including hosting a peer education program and volunteering to distribute informational resources in your community.
With chapters across the U.S., the Autism Society of America has become a valuable resource for people with autism and caregivers. The group maintains an online database of professionals and resources, such as therapists, dentists, doctors, and schools.
The Asperger/Autism Network has a mission of empowering individuals and building community. The organization also hosts a conference and provides a breadth of resources for those with autism, families, and professionals.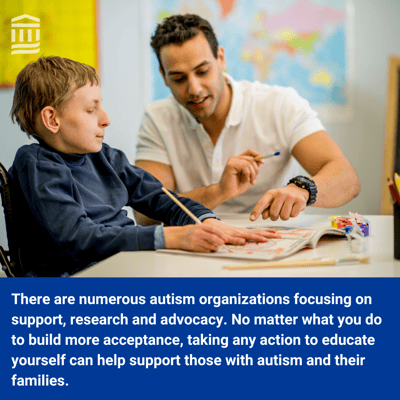 No matter what you do to build more acceptance, taking any action to educate yourself can help support those with autism and their families.
Learn more about Aspire, a Massachusetts General Hospital program that specializes in helping children, teens, and adults on the autism spectrum achieve success
You can also request an appointment or stay connected with The Lurie Center for Autism at Mass General for Children. The Lurie Center for Autism is a multidisciplinary clinical, research, training, and advocacy program dedicated to treating individuals with autism spectrum disorder and other developmental disorders across the lifespan.
For more health and wellness education from Mass General Brigham Health Plan, follow us on social @MGBHealthPlan ⬇️