Uncover how to speed up prior authorization determinations
Dr. Lisa M. Scarfo, MD—Pediatrician and Medical Director at AllWays Health Partners, talked with us about bridging the gap between doctors and health insurance providers regarding the medical necessity process. Read on to learn about common misconceptions and some tips providers can benefit from and start using today.
Understanding insurance medical necessity criteria
Medical training typically doesn't instruct providers on how to interact with insurance companies—and many providers may not necessarily understand the health plan medical necessity review process. Although some specialties may have a lot of experience dealing with prior authorization reviews, others may not. Providers may not understand that what they see as being medically necessary services for their patient may not be thought of as medically needed by the health plan, and this can cause some frustration. The key is to know that insurance medical necessity criteria are evidence-based, and that specialty providers' input is used to create these policies. They are continuously evaluated and reviewed by health plans to ensure they are up to date with care standards. These criteria also consider more conservative treatments that are commonly used to treat a condition before advancing to a more invasive or complicated, experimental treatment that has not yet proven itself superior to the standard of care for the condition.
If you're wondering what defines medical necessity from the insurance perspective, here is one example. Say you have a young, healthy two-year-old child that may be a bit on the small side for their age, but with an appropriate weight for their height. The parents are concerned that the child won't sit at the table and eat meals with the family. So, they ask their child's provider to prescribe a liquid supplement like PediaSure since it is easier for them to give this than to deal with normal "picky eating" behavior. They have confirmed that Pediasure is a covered service with their health plan but requires a medical necessity review of a provider's prescription. In this case, PediaSure would not meet the health plan criteria for medical necessity since there is no clinical reason why the child cannot eat a regular diet. However, if the child had chronic intestinal issues or a medical condition that interfered with their ability to eat a normal diet—which affected their weight and growth—they would have a medical reason to have the PediaSure prescribed to them by their provider and covered by their plan benefits. When an insurance company determines the medical necessity for this service, there is a line between family convenience and essential medical service.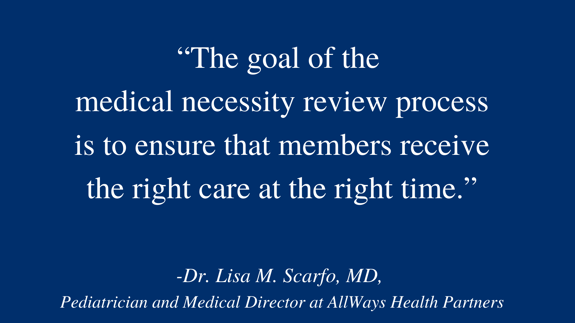 Technological impact on care delivery and options available
Dr. Scarfo expanded on what defines medical necessity from an insurance perspective with another example. As the technology advances in diabetic supplies such as continuous glucose monitors, many patients who can be treated with traditional blood glucose meters are requesting these devices. Since they are marketed in the media quite heavily, a member may ask a provider to prescribe one. A provider may believe that such a device is medically necessary because it will make the patient's treatment easier. But that may not always be the case, and technology may not be considered necessary to manage a person with diabetes who is only checking their blood sugar once or twice a day and is on oral medications. On the other hand, if you have a member with diabetes that is having difficulty managing their disease and is on intensive insulin therapy, checking their blood sugar four times a day or more, but still not able to meet their treatment goals or experiencing complications—the technological option and the education needed for them to use it effectively may help them to improve their condition. Updating technology devices in good working order for newer ones with additional convenience features is something health plans review to ensure that a member's needs are met with the most appropriate device for their clinical condition.
Some provider systems have medical necessity criteria or decision-making support tools built directly into their electronic medical record to support providers in their decision-making process. One common example is in ordering high-tech radiology studies, which may help a provider determine whether other x-rays or treatments should be performed before ordering a more complex study such as an MRI. Having these tools available at the point of care can help providers make these decisions. When the time comes for the MRI, they have already met the more conservative treatment or imaging requirements before a study is considered medically necessary.
Different insurance companies have slightly different criteria for these scenarios, so that can be challenging. As medical records have become more electronic, filling out information has grown more complex. Providers are focused on delivering care, so it can be challenging to follow the various criteria for their patients' differing health plans. At AllWays Health Partners, we routinely survey the environment to ensure that our policies and procedures align with the marketplace and use national and regional benchmarks when writing medical policy. Through the work of our Medical Technology Assessment Committee and Medical Policy Committee, each policy and criteria set to undergo a thorough evaluation and an annual review and more frequently if new evidence determines a need to make an immediate adjustment.
InterQual increases consistency in the decision-making process
In addition to medical policies developed at the plan, AllWays Health Partners also utilizes InterQual criteria to determine medical necessity for many procedures and services. Interqual is a nationally recognized support solution grounded in clinical evidence and standards of care that help providers make clinically appropriate medical utilization decisions. InterQual has enabled us to make decisions based on the most up-to-date evidence. Since several insurance companies in the state use InterQual, this can simplify prior authorizations for providers. For providers who regularly perform the same procedures, we invite you to log onto our provider portal to review the InterQual criteria. This will help you learn exactly what clinical information is needed to meet the medical necessity criteria for your top service requests. AllWays Health Partners has also recently piloted InterQual Connect: an automated self-service tool available for some service requests. InterQual Connect allows provider staff to review criteria and select based on their clinical information to provide an authorization decision within seconds.